WooCommerce 3.8
The brand new WooCommerce 3.8 is finally live! In development since August 2019 this final minor release for 2019 includes 516 commits by 28 authors. Woocommerce 3.8 represents a move towards more frequent, stable and smaller releases.
Compatibility and upcoming upgrades
The new release should be fully backward compatible with all previous releases since 3.0. That said, we highly recommend that you ensure your existing theme and plugins are compatible by testing the new Woocommerce in a stage environment. In addition, make a full backup of your site before update for peace of mind. In any case, we suggest you to wait a few days for the sub release (3.8.1) with fixes for any potential bugs and security issues, before you use it in production. Detail info on How to Update WooCommerce here.
There is no change in the WordPress and PHP requirements for the moment (minimum versions for WordPress and PHP are 4.9 and 5.6.20 respectively). However, the WooCommerce team will notifications to upgrade these minimum versions to WordPress 5.0+ and PHP 7.0+, ahead of next release Woocommerce 3.9 in January 2020 .
What's new
WooCommerce 3.8 ships with a new suite of product blocks and a few other improvements.
Gutenberg new product blocks
WooCommerce product blocks, a collection for the Gutenberg Block Editor, allow you to easily showcase products on your site. There are four new blocks:
Reviews by Product
Reviews by Category
All Reviews
Product search
The three new review blocks will allow you to customize user reviews and place them on different areas of your website. So, if your customers are giving feedback about their shopping experience, you can easily share it with your visitors by placing All Reviews on landing pages or Reviews by Product on your product page, or even display Reviews by Category on specific category pages.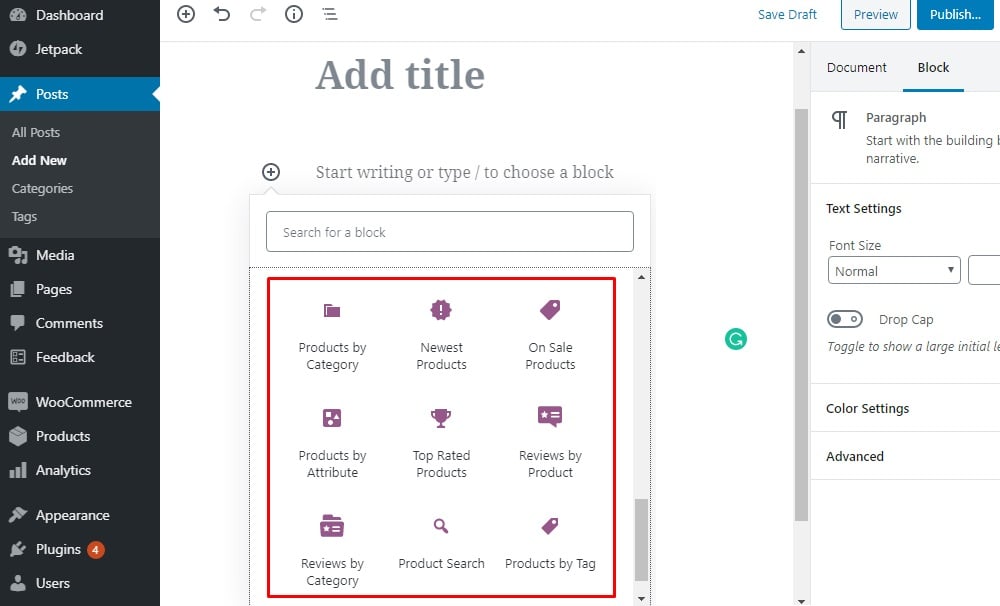 Another block added to WooCommerce 3.8 is the Product Search Block that gives customers the ability to search for a product from any place in your eshop.
Other improvements
A few important improvements in the new release are:
Full support for PHP 7.4
Several new hooks and filters
A new template for displaying a product price filter widget.
Information regarding advanced eCommerce services and eshop development you can find here.
More technicical info regarding Woocommece 3.0 you can find here