Based on the latest estimates of the year there was a rapid increase in online sales. In order to respond to future market demand, companies are building e-commerce and e-commerce applications. For a business the creation of an e-shop is a relatively low cost investment compared to the economic benefits it can derive from its operation. Many times, however, an online store does not have the expected results. The low performance of your online store is due to negative factors that you need to know in order to manage efficiently. Here is the detailed presentation of the most important of them.
Low-quality content
When a customer purchases online, is unable to get in touch with the product in order to be fully informed and form an opinion. It has to be content with the photos, videos and descriptions you provide. Therefore, the material you will use to present your services and products should be designed to attract consumer interest. You should create special descriptions, pictures and videos to show your customers the value and benefits they will derive from buying and using the product.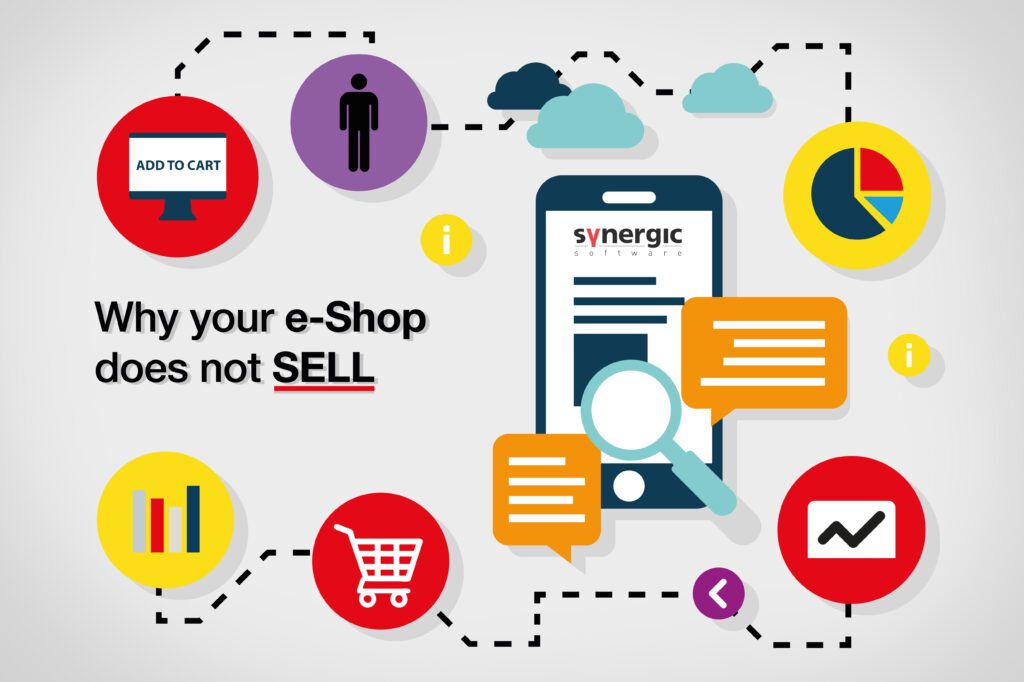 Navigating in your e-shop is difficult process
E-shop with a complex menu, small or inconspicuous action buttons, low quality photos and general elements that make it difficult to navigate and inform the visitor. This is an unpleasant situation for your e-shop visitors and is often one of the most important reasons for leaving the e-shop and not making any purchases.
The large list of products without the properly organized categorization is a major obstacle for the consumer when searching for products and can often cause the e-shop to become the cause.
The search process and the filters do not work properly, and our search results refer to a general category or to the wrong products.
The difficult or complex navigation of eshop's content and functions minimizes the chances of selling and increases the exit rate.
An important role in designing a usable and easy-to-navigate e-shop is the "Information Architecture". Ensure that your e-shop navigation is as simple and comprehensible as possible for your visitors.
Complexity in the checkout process
A complex multi-step checkout process will troubleshoot and can often prompt the customer to leave the e-shop. It is no coincidence that the checkout process has the highest exit rate compared to the rest of the pages in an online store. This is because in the checkout process customers provide sensitive personal information such as their name, address, phone number or credit card number. If the process is not simple, understandable and not intimate to the visitors then there is a great chance of leaving the e-shop without completing their purchases. The best-known e-shop creation platforms offer ready-made checkout procedures with multiple steps or single page checkout (Prestashop, WooCommerce, Magento,…). Your goal should be to create a simple and quick checkout procedure particularly useful regardless of the number of steps. Also, many e-shops require user registration to complete purchases. Make sure this option is optional in your online store. Allow your customers to complete their purchases as guest users. Many times consumers are concerned about the security of their personal data and prefer making purchases as "visitors".
Hidden charges, refundability & limited payment methods
How many times have you detected just before completing your purchase an additional amount of 5-20 € in the total payment amount, which you eventually translate into transport costs that were not mentioned on any page but only on the checkout. If you wanted to "irritate" your client as soon as you did. This for some customers is a very important reason to leave the e-shop. Avoid this error, tell your customers about shipping before checkout if this is feasible.
The possibility of returning the product is a process that employs most consumers. When they know they can return a product they feel that the company shares their needs, they feel that if they are not satisfied with the product they have returned they can return.
The limited number of payment methods is often a crucial negative factor for sales of an e-shop. Let your customer be in the final line to complete his purchases and see how the proposed payment methods do not serve him as a consequence of not completing them. Be sure to provide a sufficient number of payment methods according to your audience's needs.
Lack of communication data
The absence of the contact information may be a little bit of detail but it hits the bell of danger for consumers, since they will hardly trust and make a purchase in an e-shop where the contact details and information about the business are absent. Think about how someone wants to ask you questions about products, available payment methods, or the possibility of returning the product. Usually contact details, location and location are collected and placed in a prominent position in the e-shop marked "Contact us" so that visitors can find them. Also, an important addition along with the communication button is the "About Us", which should provide information about your company's physical and legal status.
You're not promoting enough your e-shop
Your primary goal is to e-shop to attract the right audience and audience to "translate" into sales. But how will "consumers" come to your e-shop if they do not know its existence? Your goal is to have your business run successfully on all the known channels of communication your business uses. This will increase your chances of attracting new customers and increasing traffic to your store. This can be achieved through continued viewing on popular social platforms (Facebook, Instagram, Twitter, etc.), search engines (SEO), advertising platforms (Google AdWords) and affiliate networks.
Advertising that misleads the customer
It has been observed several times that the landing page that accompanies your ad instead of directing the consumer to the product you advertised leads to a page with many products other than advertised. This can be a way of presenting more products to the customer than one more time you will confuse him and will force him to leave the e-shop without looking for the product he first visited your page. Create targeted ads so there is "flow" and consistency in communicating with your audience.
Targeting the wrong audience
Sometimes time and budget available is invested in your ad not to deliver the expected results. This is because the target audience is not adequate, so the traffic of your e-shop is not expected (low CTR) does not translate into sales (conversions). You can specify the characteristics of the "right" audience to target based on the information provided by your communication channels you use (Google analytics, Facebook insights, Instagram analytics etc.). Focus on creating a well-structured advertising campaign targeting the right audience which could be "translated" into sales.
The products do not have the "right" price
The selling price of a product is determined by a number of factors such as the cost of supply, taxation, competition and profit of the business. In an e-shop pricing policy is a complex process. For example, if you have branded products that customers can find for your competitors then you should make the most of the photos, videos, descriptions, shipping costs, payment options available and the flexibility to pay. In addition, if your products are private brands, you should seriously consider promoting your branding and advertising of your products by showing the value and benefits that customers will derive from their purchase.
Improve the usability and functionality of your online store by taking into consideration the elements discussed in the article to increase sales and meet the specific requirements of your customers.
For complete eCommerce services and Marketing here.