The new Prestashop 1.7.6 has been released this summer, with a lot of enhancements, new features and bug fixes. PrestaShop developers and community worked hard on this release and accomplished remarkable results.
What is new in Prestashop 1.7.6
Apart from a The basic enhancements and innovations are related to improved user experience, new back office functionality, new tools for conversion optimization and new features for selling internationally.
New modern mobile friendly design for transactional emails
Transactional email templates such as order notifications and password change are getting a new look. From now on, they will be "fully responsive" with a more modern design that fits in with new behavior and trends; In addition Prestashop will provide a new back office page dedicated to email management.
Improved product catalogue
Product catalogue has been improved in several points:
Faceted search module completely redeveloped for improved performance, stability and new features such as the long awaited price slider
For showcase websites, there is an option to choose whether to display or not product price
New watermark module that allows the protection of imagery content from being copied and published on other websites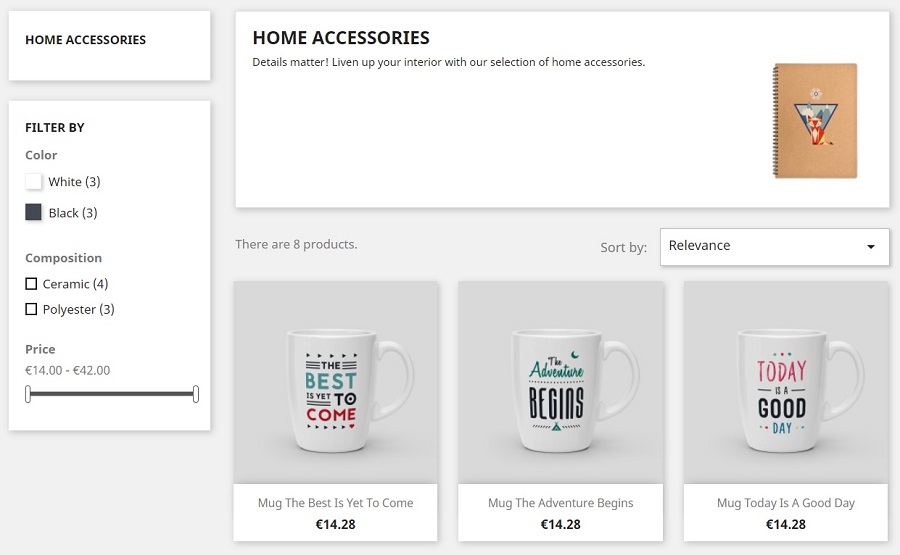 Conversion Optimization improvements
Reassurance module that allows you to add reassurance blocks to your eshop (for example, free delivery, secure payment and product/purchase warranty) at predefined areas. These elements of reassurance will reduce barriers to purchasing and create an environment of trust throughout the buying process.
New customer review module that allows eshop customer to rate and leave reviews for products in your store. Customer remarks will be shown on the related product pages and improve conversions by strengthening eshops validity and reputation.
SEO enhancements
Sellers and developers will notice improved SEO for products with different versions due to variations thanks to the product's canonical URL which can now be accessed. All combinations now have the parent product's URL as canonical. Going to the parent product's URL displays the default combination, there is no redirection anymore.
Dynamic preview of SEO results on search engines for product page so we can quickly see how product page would be shown in Google results.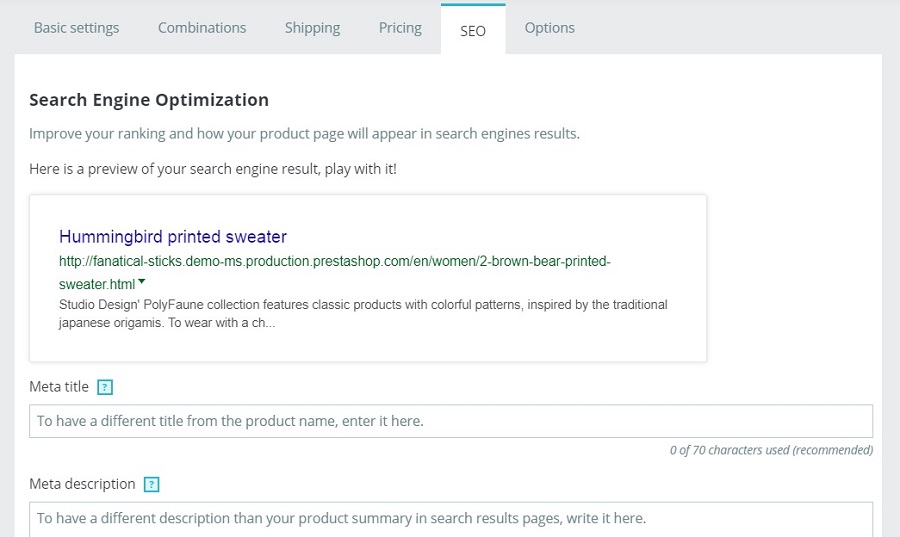 Selling internationally!
PrestaShop 1.7.6 offers merchants tools and services that take into account local specificities in order to conquer new markets. The new platform provides better localization thanks to the optimization of the display of prices adapted to customer language and an optimized translation system for multilingual sites.
Next steps
PrestaShop will continue working on their platform, improving it with new and useful features. For now, we are looking forward to exploring the new release in greater detail and usit in our new projects. Furthermore, we hope it would not be too long before the newer, more advanced version of PrestaShop will be released!
We are happy to share with you more technical info regarding e-commerce technologies and solutions provided by our experts here >.